The river frontage provides a wonderful
space to swim, fish and boat.  Boating equipment is provided and if you are really lucky, when you are swimming in the river – you may even have a visit from a dolphin or two!!  Some guests have also had great success snaring a Mudcrap or fish for dinner.  A highly recommended activity is to take one of the boats out, there are many tributaries to explore not to mention the "special times" when the sun is rising, setting or when the moon is full – its simply magic all of the time.
Other activities include:
Water Activities
Water activities include swimming and boating by kayak or canoe which are provided with our compliments.
Fishing and mudcrabbing
The Kalang River is tidal so everything you get in the ocean we get in our river.  So good fishing is at your door.  There are also a number of places to launch a boat in the area, so this is fun to explore.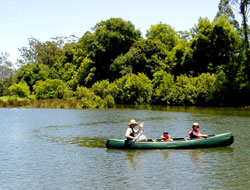 Camp fires
In the winter time it's wonderful to have a camp fire at Bellingen Farmstay, which can be arranged.  Bring your marshmallows, stories and musical instruments.
Sandpit & Swing
There is always something for the kids to do.
Simple pleasures.
Orchard with Seasonal Fruits
The orchard at Bellingen Farmstay has a range of trees including:
Citrus – oranges, limes, lemonade trees
Macadamias
Fig
Apple
Paw Paw
Quince
Feijoa
Mango
Guava
Red and White Mulberry trees